Digital and Smart Health Office
Digital and Smart Health Office
The Digital & Smart Health Office (DSHO) works towards incubating digital innovation, and accelerating transformation in healthcare. We drive Digital Transformation through the formulation and implementation of the Digital Transformation Strategy, and the Hospital Without Walls framework. In addition, we also provide services to staff to facilitate innovation, and improve value in our work, such as:


Funding of digital prototypes

Design consultancy and digital prototyping service

Robotic Process Automation (RPA) consulting & development

We work closely with ground staff in Tan Tock Seng Hospital (TTSH) to understand the challenges they face in their daily work, and actively explore potential partnerships with institutes of higher learning, academia and industry to overcome these challenges.


Our Work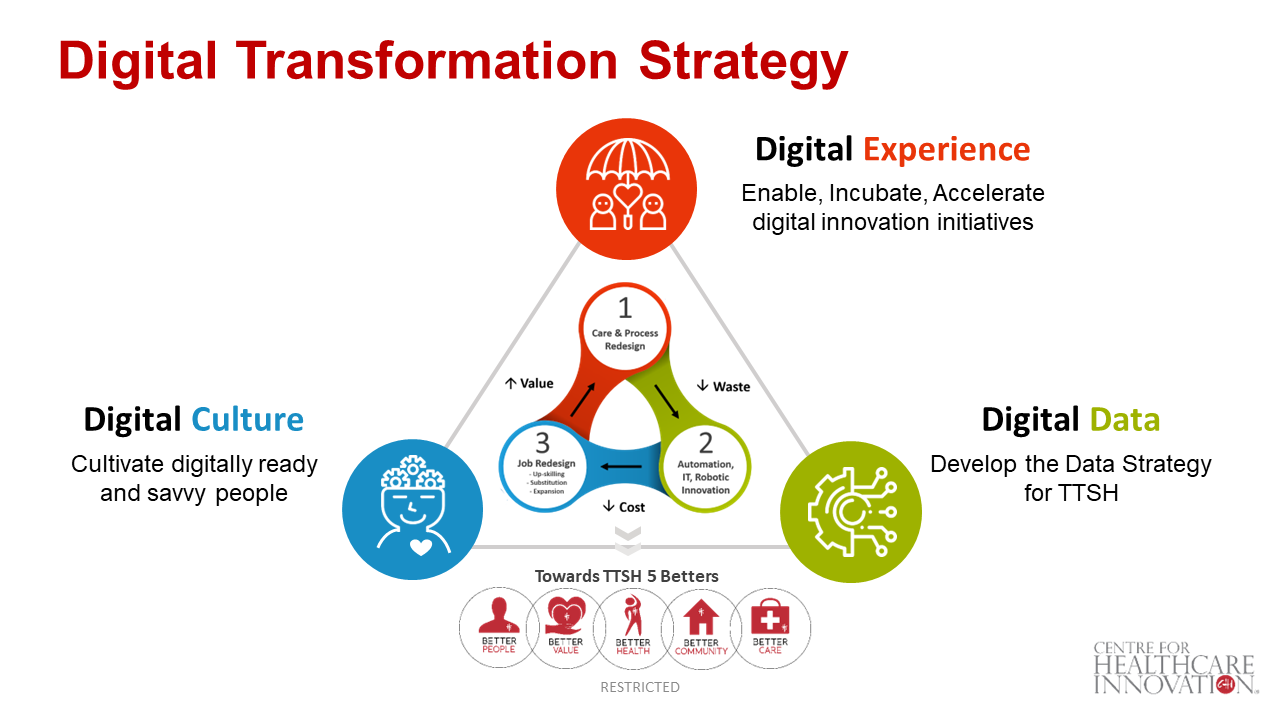 With guidance from the Digital Transformation Council, DSHO formulated the "Digital Transformation Strategy" which is the strategic mandate for all of TTSH's digital transformation efforts. Founded on the Innovation Cycle, the strategy comprises of three thrusts:
•
Digital Culture
aims to cultivate digitally ready and savvy people
•
Digital Data
aims to develop the data strategy for TTSH
•
Digital Experience
enables digital transformation change
The strategy will contribute to achieving the TTSH and Central Health 2030 missions of Academic Health Excellence, be an enabler of Population Health Excellence and also allow Tertiary care excellence through the realisation of the "Hospital without Walls".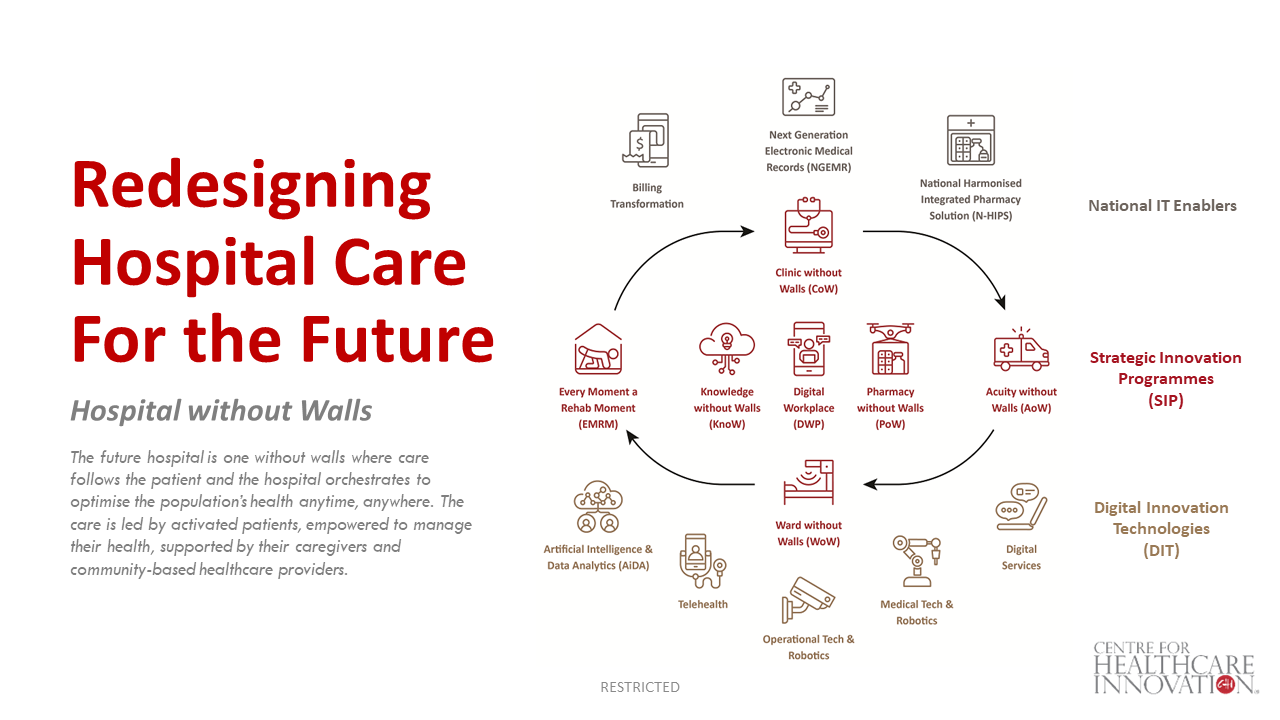 Hospital without Walls is a framework conceptualised in 2020, to drive digital transformation in TTSH. It leverages on digitalisation to transform and deliver care anytime, anywhere, where care follows the patient.
The framework encompasses a matrix of Strategic Innovation Programmes (SIP), and Digital Innovation Technologies (DIT), which are instrumental to effect end-to-end transformation in care delivery and user experience.
DITs are technology-driven communities of practice with dedicated innovation funding and expertise support. The digital tech areas we deep dive in include (and not limited to) Artificial Intelligence & Data Analytics, Telehealth, MedTech & Robotics, Ops Tech & Robotics, Digital Services, Extended Reality.
SIPs serve to integrate multiple innovation projects into a coherent development roadmap towards a strategic goal. SIPs adopt the Innovation Cycle to redesign care, stack up technologies and redesign jobs. This process ensures that technologies support new care models and empowers a digitally-ready workforce. We work with project teams to deliver care without walls in the thematic areas of Ward without Walls, Clinic without Walls, Every Moment a Rehab Moment, Pharmacy without Walls, Knowledge without Walls, Digital Workplace.